AUTOMOTIVE ASSEMBLY & WORKSHOP FIELD

AUTOMOTIVE ACCESSORY

Automotive Additive and Detailing
 MECHANICAL GLOVES: ANSELL 48-125 / 48-126 / 48-128 / 48-129
EDGE® 48-125/48-126/48-128/48-129 industrial work gloves are good solution for light

applications requiring a good level of abrasion resistance & grip, as well as high tactility in dry to slightly oily environments.

Now with EN level 4 of abrasion and good tear resistance, good grip, improved productivity.

White glove (48-125) , black glove (48-126) , black & grey glove (48-128) or grey glove (48-129) meet full coverage of end user needs.

Seamless structure; ensures comfort and encourages safety and glove usage.
 MULTI-PURPOSE MECHANICAL GLOVES: ANSELL 11-618
THE NEXT GENERATION GLOVE IN COMFORT, DEXTERITY AND FLEXIBILITY

Almost a second skin, this very thin glove offers outstanding comfort, fit and sensitivity for the most delicate handling.

18-gauge knitting technology allows this glove to be ultra-thin yet tough.

Designed for a wide range of lightweight applications in dry or slightly oily environments, it is ideal for workers who need a higher level of fit, touch and precision than that offered by their current gloves.

Also ideal for applications where cotton gloves or no gloves at all are used despite the risk of scrapes, blisters and minor injuries.

In addition, the 11-618 and 11-616 dark liners are well-suited for environments that present a certain degree of dirt.
 MULTI-PURPOSE MECHANICAL GLOVES: ANSELL 11-801
EXCELLENT DEXTERITY AND BREATHABILITY IN VERY DURABLE GLOVES

Ansell's HyFlex® 11-801 gloves are ideal for dry or slightly oily applications that require light mechanical protection and high levels of handling finesse.

They are well-suited to light assembly applications as well as to the needs of logistics and warehousing.

The use of Spandex elastics prevents risk of latex allergy, while the silicone-free glove reduces potential contamination of the products.

Antistatic according to EN1149.

Fit for special purpose.
 MULTI-PURPOSE MECHANICAL GLOVES: ANSELL 48-100
COMFORT AND PROTECTION FOR LIGHTWEIGHT APPLICATIONS

Ansell's SensiLite® range of industrial gloves are designed for light applications that require good levels of comfort and abrasion resistance.

Offering precise handling of small objects in dry or light oily environments, SensiLite® is the practical choice when you are looking for dexterity.

SensiLite® provides enhanced safety, dexterity and durability compared to other glove options often used in the same applications.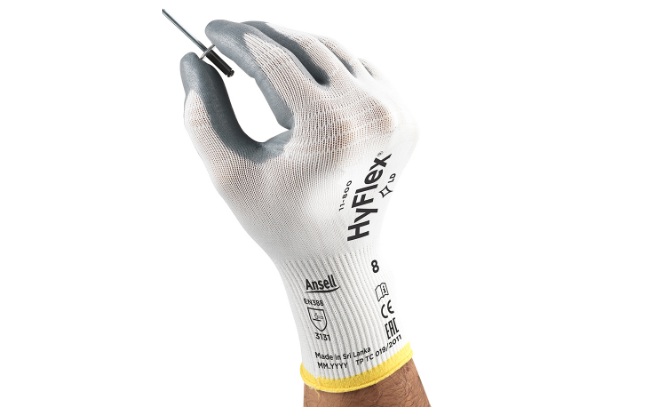 MULTI-PURPOSE MECHANICAL GLOVES: ANSELL 11-800
THE ORIGINAL REINVENTED

Ansell's best-selling HyFlex® 11-800 glove, the original nitrile foam glove, is better than ever.

A highly versatile solution for precision assembly and general handling, it provides the perfect balance between comfort, dexterity and protection.

Advanced Knitting Technology allows increased stretch and flexibility in high-stress areas: the hand operates more freely, improving comfort and reducing hand fatigue.

Antistatic according to EN1149.

Fit for special purpose.
SAVIINTECH COMPANY LIMITED